Sony Pregius CMOS sensors
Sony IMX249 sensor - Sony IMX174 sensor
with Global Shutter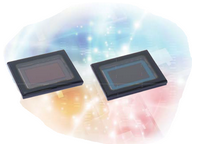 Pregius™ sensors are the first global shutter CMOS sensors from Sony redefining the CMOS imaging category. This new sensor provides the best of both worlds from CCD and CMOS sensors combined in a new pixel architecture. The Pregius™ family has an analog pixel design similar to a CCD providing excellent signal to noise (SNR), dynamic range and well capacity but providing digital advantages of CMOS like high speed, analogue to digital converters (ADC) and image correction.
Pregius™ sensors take advantage of back-illuminated technology which provides twice as much sensitivity as normal front illuminated sensors. Additionally temporal dark noise is reduced by using dual ADC methods along with correlated double sampling (CDS).
In comparing key data points such as Quantum Efficiency (QE), temporal dark noise, Dynamic range and sensitivity, these sensors outperform CCD sensors and many of the best CMOS sensors on the market.
The chart below compares the Sony Pregius IMX174 sensor to a similar resolution CCD and CMOS sensor. In all aspects, the Pregius outperforms.
Cameras with Sony Pregius sensors include the Sony IMX174 sensor and Sony IMX249 sensor. They are offered in many camera configurations.
For additional Sony Pregius sensor comparisons, review our Battle of the Image Sensors blog article.
| | | | |
| --- | --- | --- | --- |
| Sensor | IMX174 (CMOS) | CMV2000 (CMOS) | ICX274 (CCD) |
| Manufacturer | Sony | CMOSIS | Sony |
| Resolution | 1920 x 1200 | 2048 x 1088 | 1920 x 1200 |
| Pixel size | 5.86 µ | 5.5µ | 4.7 µ |
| Temporal dark noise | 7 e- | 13 e- | 8.35 e- |
| Saturation Capacity | 32513 e- | 9400 e- | 7969 e- |
| Dynamic Range | 73 dB | 60 dB | 59 dB |
| Quantum Efficiency @ 525 nm | 76% | 63% | 59% |
Saturation Capacity & Dynamic Range
Saturation Capacity sometimes referred to as "Well depth" is the measured amount of electrons the pixel will hold. Although the IMX174 pixel itself is 25% larger in comparison to the CCD equivalent, it provides 4X the saturation capacity. The increased saturation capacity provides the ability to convert more electronics into grey scales providing a higher dynamic range. High dynamic range allows details in bright and dark areas to be seen without saturating the image.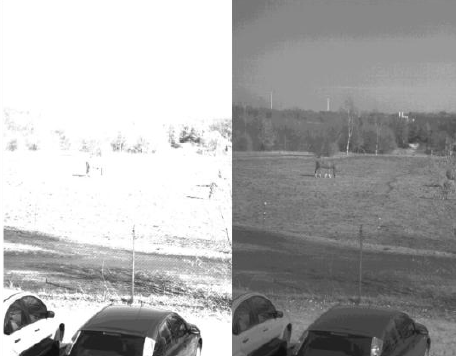 Quantum Efficiency (QE)
Quantum Efficiency is a measure of the sensors ability to convert photons to electrons. Higher QE represents a better conversion of the photons to an electric charge and varies across the light spectrum.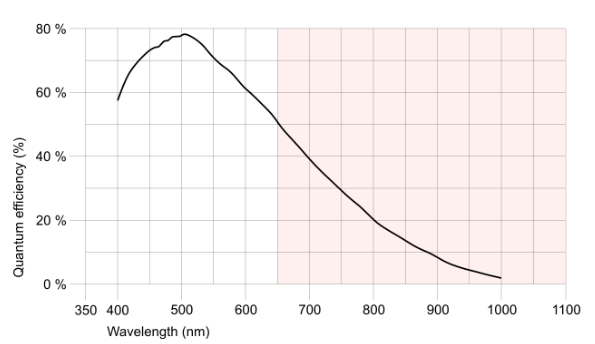 In comparing the IMX174 to the Sony CCD and CMOSIS CMOS sensors, the QE at 525nm is 76% compared to 59% and 63% respectively. In turn, less light will be required to reach similar brightness levels as the IMX174 is more sensitive.
Temporal Dark Noise (Read Noise)
Temporal dark noise or Read Noise, is generated and influenced by the sensor and camera electronics. This noise is what is present when there is no signal. The read noise is amplified when camera gain is applied, in turn degrading the image. Low temporal dark noise allows for more signal and in turn a less noisy image. The IMX174 sensor has a temporal dark noise of 7 e- which surpasses the Sony ICX274 CCD sensor. Historically, CCD's were superior in lower noise, but is now surpassed by Pregius pixel technology.
Product Offering
The Sony's Pregius family of sensors will continue to expand with higher resolutions and in most cases paired with a faster and slower version of that given sensor. Resolutions from 1.5MP to 12 MP are on the current roadmap, in turn creating an excellent portfolio of industrial cameras.

See our Complete line of Sony Pregius cameras.

Exmor is a trademark of Sony Corporation. The Exmor is a version of Sony's high performance CMOS image sensor with high-speed processing, low noise and low power dissipation by using column-parallel A/D conversion.

Pregius is a trademark of Sony Corporation. The Pregius is global shutter pixel technology for active pixel-type CMOS image sensors that use Sony's low-noise CCD structure, and realizes high picture quality.

The Exmore R and was the world's first mass-produced implementation of the back-illuminated sensor technology[2] Sony claims that Exmor R is approximately twice as sensitive as a normal front illuminated sensor.